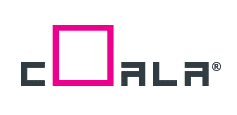 Coala Self-adhesive vinyls - Premium self-adhesive monomeric and polymeric vinyls.
A top quality range of monomeric and polymeric PVC with clear acrylic dispersion adhesive (permanent), laminated on one- and two-sided clay-coated silicone paper liners. In addition to excellent opacity and flatness, these films offer high dimensional stability. They are designed to be highly resistant to the influence of solvent inks, giving excellent printing results with high resolution and rich colours.
The range is particularly suitable for application on flat and slightly curved surfaces.